It receives its name from Burjassot, town placed close the Túria river at five kilometers of the city of Valencia.
In France it is known with the name of Violette de Solliès. The figs of Solliès are a lot appreciated and have a protected origin's denomination .
One crop variety. It is known from the antique with a lot of available information . When the terrain it is favorable, the tree could achieve a very important development. Its root system is powerful, capable of arriving besides 50 meter of distance of the stump.
In some cases it produces some brevas that almost never arriving to mature.
According to some authors it is one of the fig trees that it has less need of lighting.
Black Burjassot Fig-tree in Cala d'or ( Mallorca ) 2006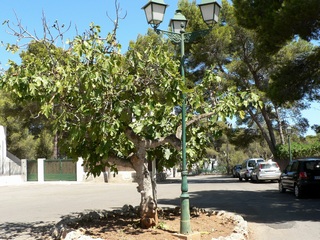 It grows splendidly under these conditions and it is capable of bearing correctly.
Fruit of means size at main part (70 80) gr., flattened and without neck, very characteristic, particularly beautiful short stem that it distinguishes perfectly from other varieties. Skin black, purplish small eye. Meat red, sweet and perfumed. Inside without pronounced cavity. Very good gustatory quality. Often when it is mature it usually drops a honey tear from the eye. This is usual in many figs and some have precisely this name.
It is this the best moment to relish this fig.
To dry the white variety is better.
It is a late fig. In Catalonia, it starts to be harvested from August.
First figs from a scion of Cala D'or. 9 septembre 2007.