03 September 2007
One crop variety.
In certain cases makes figs of spring that they seem brevas, but in a normal way they fall down before to mature.
Tree of size medium that love it the fresh and deep terrains.
According to Pere Estelrich i Fuster, the white variety adapts better in the deep and clayey terrains.
The leaves have normally 5 lobules and a medium size without many variations in a same tree.
Fruit of black skin and lengthened neck with very short stem. Small red eye. Skin quite fine but that bears the transport very well.
Fig-tree orchard of Coll de Dama a Sant Boi, February 2004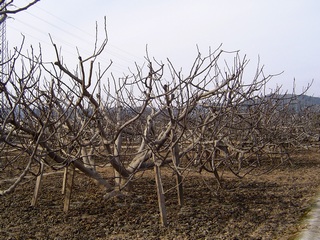 13 July 2007
Around 70 gr weight or more in watered orchards.
A lot sugared flesh and juicy, excellent quality and taste, compact, with dark red color. acceptably good taste even out of the optimal maturation. (it does not happen with other varieties).
The long and elegant neck is the distinctive feature of this variety, which gives its name.
In fertile and humid terrains "the white" meat (part between the pulp and the skin) is a little bit thickness.
When the autumn arrives, this becomes of yellowish color reducing the gustatory quality of the fig.
22 August 2006
In Catalonia, the fructification is spaced out from beginning August. When the autumn is enough warm, it is possible to harvest the whole of the figs.
It does not bear well the storms, that they make or to detach its skin or they make to split the fig.
Tree to recommend for the regions that they have the warm and sunny autumns.
It is adapted perfectly to growing in pot. In this way him possible to obtain figs at the first year. One another advantage it is that grwoing in pots makes advance the crop and it allows us to control the size of the tree.
It is the more appreciated fig in Catalonia. This fig tree feels all our geography.
If you do not have an own tree, the best way to enjoy this fig is buying it to the farmers that they sell it directly from its fields towards the m proximity markets.
The main producing it is Alguaire city in Lleida.
In excess of nitrogenous fertilizer it provokes the delay of the maduration.
No support the nematodes, in this case it is necessary to graft it about a resistant stock.
Fig tree i my terrace
Split fig after of raining
Ira Condit ( Hilgardia ).
Described by Audibert Frères (1854), Hogg (1866), G. S. (1869), Eisen (1888, 1901), Starnes and Monroe (1907), Guglielmi (1908), Pere Estelrich i Fuster ( Mallorca 1910 ), Priego-y Jaramillo (1922), Mauri (1939), Simonet et al. (1945), Delbard (1947), and Montagnac (1952). Illustrationof fruit by Eisen; of tree, leaves, and fruit by Mann.Extract of Hilgardia.
When Ira Condit made this work., It was not a very known variety in Spain, but in Catalonia was very known.
According to Majorquin Pere Estelrich i Fuster, this is one of varieties more resistant to split in rainy weather.
I disagree of this opinion (Or may be a wrong translation from Ira Condit ), from my experience, in the Baix Llobregat (Barcelona), it is a sensitive variety. The split resistance is influenced by varietal factors and also they are strong influenced by climatologic conditions, the type of terrains and the way of growing, It may be that the difference.
As curious interesting observations are made by Mann: the name Bouankirk signifies "long neck." The Kabyles (North Africa) also designate the variety by the names D'Abouch Takli, "breast of a negress," and Abgait. It is widely grown in North Africa, but on account of thickness of skin it is not dried commercially.
Fig tree Coll de Dama in Vallés Oriental ( Barcelona)