One crop variety.
I do not know from where its name comes. There is Naples a fig resembling?
Tree that achieves big in fat and deep terrains.
Dark green, very wide leaves of color that give a cool and rewarding shadow.
The leaves are usually from five lobules strongly marked.
Fruit of skin black and without neck. Medium peduncle. Small and red eye.
Fine skin slightly rough. Weight about 60 g.
Sugared if you are not impatient and waiting enough to pick-up at the optimal point of mature, always acceptable its gustatory quality, in the tree. Flesh compact of reddish and rosy color for the brevas.
The fructification happens suddenly. In Catalonia, it starts at the beginning august. It bears well enough the storms without daydreaming.
Good fig to eat it in fresh, but one of the best for cooking it is.
Many farmers appreciate or appreciated this fig tree for their exceptional shadow.
Often it gives some brevas of exceptional quality, in my opinion the best breva.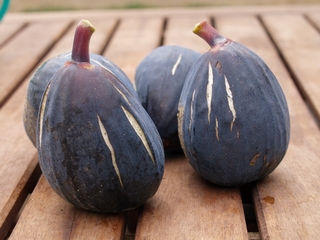 Second crop figs (17-August-2007),average weight 60 gr.
Good gustatory quality.
Exceptionally, It gives some brevas, as this harvested on 16-June-2007. With a superior flavor to the summer figs.