Brevas 24 June 2007.
It is considered one of the most rustic and with the best resistance in the cold among the varieties of fig trees.
You can see this interesting page from Sweden to review this affirmation about.
Fig growing in Sweden
There are witnesses that this fig tree has survived colds inferior to 18º C, sprouting again of the stump without damages.
Also, it is adaptable to the warm climates. In these climates is very sensitive to the illnesses fungus (rust).
Tree of size medium that grows very well in the pots.
Medium size brevas, from 50 to 60 gr weight approximately.
Quality inferior to the fig of summer.
Summer's smaller fig (less lengthened), without neck.
Brownish skin with greenish background.


Summer figs 9 August 2005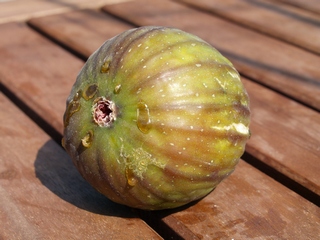 Fig tree Brown-Turkey in my roof, 4 August 2006

At the gustatory level, it is not a variety that it does not highlight in any aspect.
Figs can be obtained from good quality with a suitable soil and having a lot of care of the control of the irrigation and the fertilization
Especially it cannot be forgotten to place the tree in full sunlight.
Out of the growing in pot, it is difficult to control the optimum conditions for obtaining an acceptable fruit.
In zones where it is possible to obtain figs from other varieties may be used as a fig tree of collector.
Figues Brown-Turkey 30 August 2007